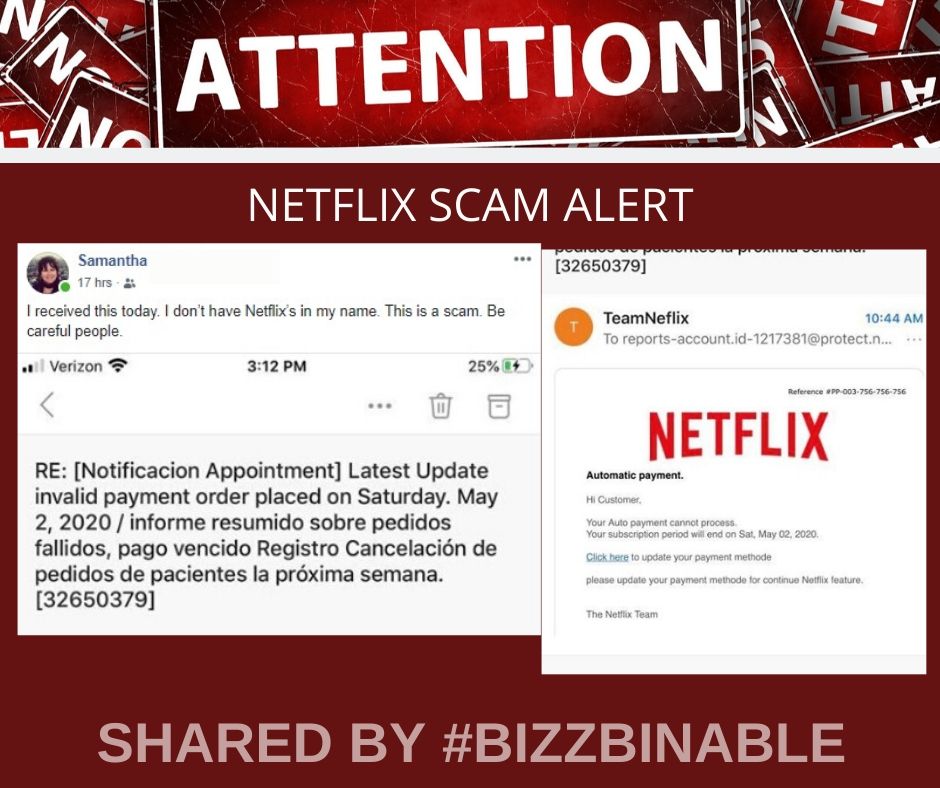 Thank you for Samantha for pointing this one out.
She received an email supposedly from NETFLIX but it's actually a phishing scam to get your bank information and more.
What to do?
You can find out more at help.netflix.com
or keep reading:
I received a suspicious email or text claiming to be from Netflix
If you received an email or text (SMS) requesting information like your username, password, or payment method that looks like it came from Netflix, it probably did not. Here are some tips to identify and handle a suspicious email or text and keep your account safe.
How do I know if an email or text is actually from Netflix?
Keep the following in mind to determine if it's from us:​
We will never ask for your personal information over email. This includes:
Credit card number
Bank account details
Netflix password
We will never request payments via a 3rd party vendor or website.
What should I do if I received a suspicious email or text?
Scammers can't get any information from you unless you give it to them.
If you received a suspicious email
If you received a suspicious text message (SMS)
What should I do if I opened a link or provided personal information?
Change your Netflix password to a new, strong and unique one.
Update your password on any websites where you use the same email and password combination.
Contact your financial institution if you entered any payment information, as it may have been compromised.
Forward the message to [email protected] with the steps above.
What are some best practices to keep my information safe?
Be careful anytime you get an email or text requesting personal information.
Hover over any links before you click on them to make sure they lead where they are supposed to lead.
Don't click the link when in doubt; go directly to the company website instead.
Check the sender's address to see if it looks legitimate.
Never provide personal or financially sensitive information through email.
Install anti-virus software to help guard your devices and personal information.