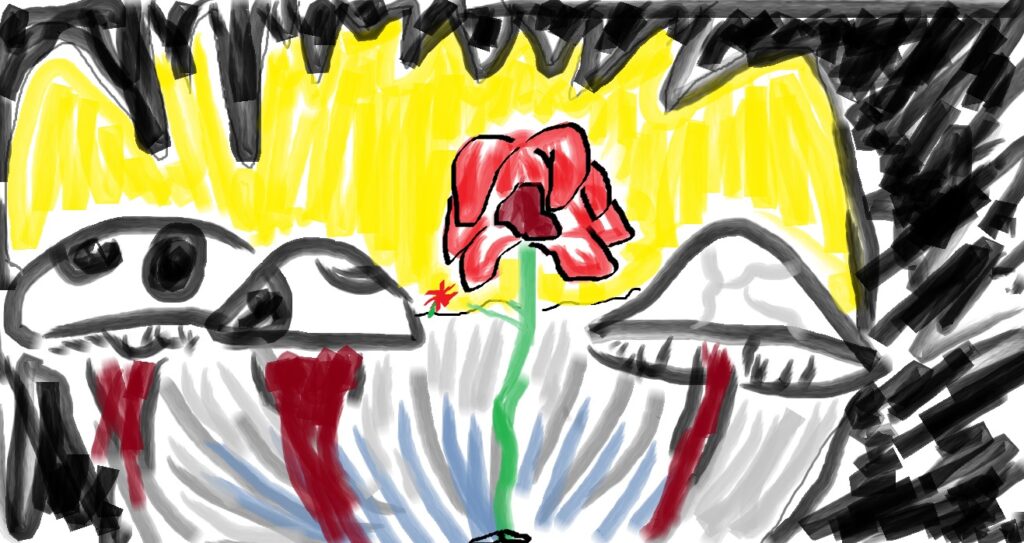 The Image of the Wilting flower inside of the cave inspires much contemplation. Here are some thoughts on it:
Sentient beings are similar to flowers.
When they get their needs met such as water, sunlight, nutrients they are happy and when the conditions aren't right for them it is easy to see. They wilt. They need space of their own or they choke each other out, but they need to be near each other to partake in the dance.
Sometimes a flower finds itself rooted in a dark cave DWELLING amongst mushrooms. The mushrooms tell the flower "You are not right you should look like us" The flower will feel wrong although it is perfect. But look! Outside the cave basking in the sun is another flower! Who could have guessed there is another path entirely other than the one we are on!?
The mushrooms have their path. The flowers have their path. The humans have their path.
Do not try to put your roots down in hell. Do not confuse what you are based on what others seem to be. Give each other time and space while all the time creating a tapestry field of colorful flowers! When a sentient being is upset we should consider what needs or conditions are not right for them.
The flower, the cave, the sun, the mushrooms can never be "wrong" individually. It is the combination of them that can be unsuitable for blossoming.
Find the array of conditions that make you light up!